Buriram Massage offers a Panasonic Hot Water Shower Heater
Private Warm or Hot Shower before and after your Oil Massage in Buriram. Buriram Massage is happy to provide clean filtered water stored in a Food Grade water tank so you will always be able to enjoy a shower before and after your ending of massage services in Buriram.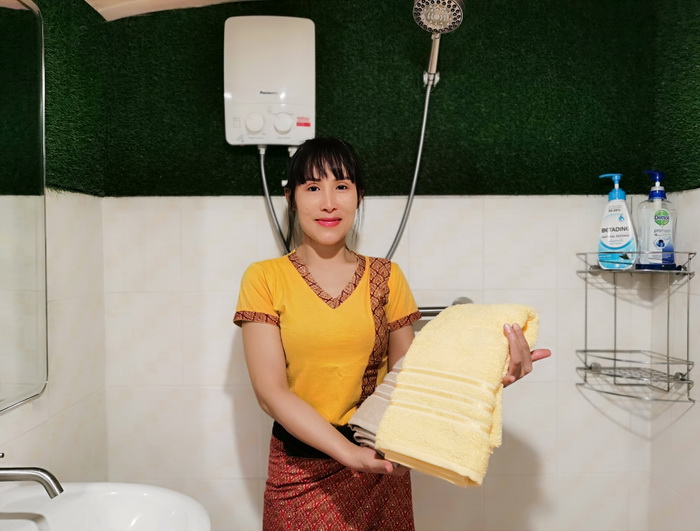 Miss Pennapa provides clean fresh smelling bath towels for your shower before and the shower after your oil massage in her Buriram Massage Studio. The fluffy bath towels are washed in hot water on-premise. The shower is spotless and cleaned with Dettol after every massage client.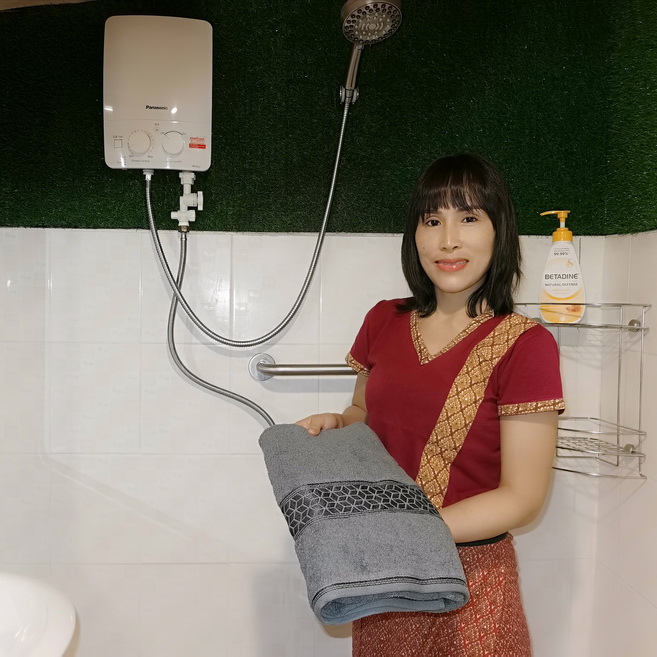 Never take a hot shower or warm shower for granted at a massage studio in Buriram. Never take having water available in Buriram for granted. Nor should you take a flushing western style Cotto toilet with T.P. for granted in a Buriram Massage Parlour. Miss Pennapa has your complete comfort and relaxation at the driving force of her own massage studio. This shower is filmed and on the youtube channel "Buriram Massage".  Of course no customers are shown in the massage studio in the videos posted by Miss Pennapa. Your privacy is a priority with Pennapa. Towels, pillowcases and massage table linens washed in hot water daily. Safety is a top priority.