Thai Massage available in air conditioned comfort on a sturdy raised massage table in Buriram. Certified Female Masseuse.  Foot Massage | Neck Massage | Back Massage | Shoulder Massage open again in November 2020 if safe. In Buriram the Thai Oil Massage female masseuse highest rated is Miss Pennapa.  Open 7 days a week.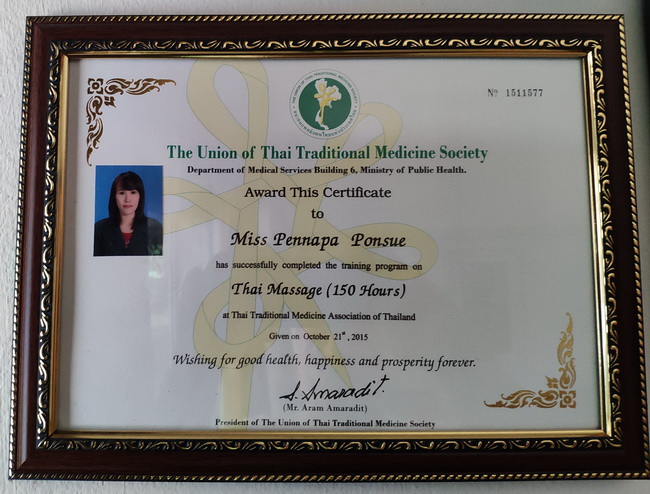 Miss Pennapa Ponsue is a licensed professional massage technician. She is the only masseuse currently working at Buriram Massage. Miss Pennapa delights in providing ethical, legitimate massage services to both women and men in Buriram. Both expats, visitors and Thai citizens. Buriram Massage is the first of seven massage studios located on one long block of Lang Sathani Rotfai Road in Buriram. Some expats refer to this Soi as Massage Alley. Parking is easy. Miss Pennapa shop, is listed on Google Maps as BURIRAM MASSAGE OIL.   300 baht for a one hour Thai massage given in a clean | quiet | comfortable studio.
Buriram Massage is opened every day from 9:30 to 19:30, and all anti-COVID disinfection measures are strictly followed. Trust is a cornerstone of Miss Pennapa's reputation. While other studios take pictures during massages for their Facebook, Instagram, or website, Buriram Massage studio will never dare to breach your trust in such a manner. Your privacy is 100% guaranteed by Miss Pennapa. And as a token of appreciation, Buriram Massage will send you off with a free gift bag. Truly an experience you will remember for a long time. Repeat happy clients are the reason Miss Pennapa has the top ratings on Google maps | Facebook | Trip Advisor and the high recommendation of pub owners and restaurant owners in Buriram, Nang Rong, Prasat, Surin, Satuk, Krasang, Nong Song Hong.